Have complaints about the trucking industry?? Submit them here....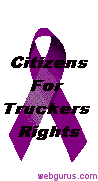 If you would like to make a donation to CFTR to help us pay for things like printing and ribbons. It is gladly appreciated!! All funds are used for CFTR expenses.
Help spread the word. Use this banner to link to us and help promote our cause....


Printable Flyers


Printable Petition


Online Petition