Drop us a note. We would like to hear from you. What is your view on the trucking indutry? How can you help? How do you think we can change things for the better? Just click on our name below to send email...
Citizens For Truckers Rights...
Or you can reach us at our mailing address:

CFTR
Debbie Allen
301 Jennings Drive
Summerville SC 29483
FAX: 1-425-944-3598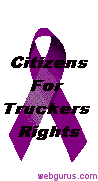 Related Links
Join the conversation at our trucking family message board. Add your opinion, tell us what you think needs to be done. Sometimes we really debate the issues here. This is a great place to ask questions and get to know us.
Partner with us.
We are looking for persons interested in petition signings and letter writing campaigns. Please contact us if you are willing to join our team...