Citizens For Truckers Rights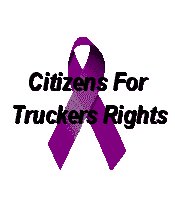 Great looking CFTR products let you show your
support for the Trucking Industry...
Click on each item

to see the full line for

that image........

T-Shirts, Sweat Shirts,

Coffee Mugs, and

Mouse Pads.
We use Cafepress.com for our products and clicking on each item will take you to our Cafepress Store front...You may order online and pay with a credit card or print out your order from the shopping cart and send in a check or money order...
Your complete satisfaction is very important to us! We guarantee that if you do not like your merchandise, or it is broken, you can return it and get your money back. This 100% satisfaction money-back guarantee is good for 30 days.
We are so very happy with our new trucks, and we want to give credit to their creator Sharon...
be sure to check out her other works of art. Just click on her name...